MEET THE CASTELL TEAM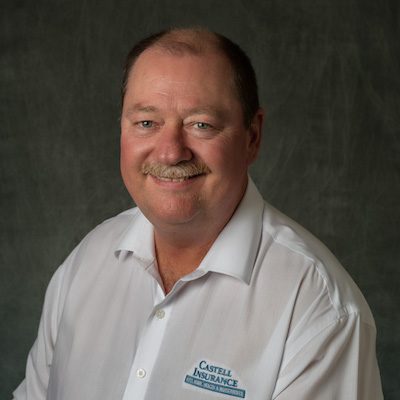 Phil Castell
Agency Founder
It is no secret that Phil is originally from England, it is obvious as soon as you hear him speak.  That said, other than his accent he considers himself a 100% Washingtonian as he has lived here for well over 30 years.  He married his high school sweetheart Sharon in 1980.  They have two adult children and four wonderful grandsons.  Two here in Sequim and two in the Seattle area.
Phil has been a licensed Insurance Agent in the State of Washington since 1987.  He loves to find solutions to fit his client's needs. He has helped thousands of clients with Medicare solutions and Long Term Care plans.  Phil has also protected millions of his client's hard earned dollars in safe, secure, fixed annuities.
Phil is very active in the community as he has served as president of the Sequim Dungeness Valley Chamber of Commerce, as well as numerous other groups and organizations.  He has also been appointed to the State of Washington Insurance Commissioner's agent and broker advisory committee.  In his spare time Phil is also a proud member of the Sequim Masonic Lodge, Sequim Prairie Grange and the Strait Stamp Society.
Go-To Midnight Snack: My favorite late night snack would definitely be something savory, and Tim's Potato Chips – either salt and  pepper or jalapeno are top of the list.
If you could have dinner with anyone, alive or dead, who would it be: I think my favorite dinner guest would be Ben Franklin. Was there anything that man could not do if he set his mind to it. He formed one of the first Insurance Company's in the US, was instrumental in the formation of Fire Brigades, scientist, politician and diplomat. In my opinion he was the greatest politician and diplomat of his time NOT to become the President. And besides all that he was the Postmaster of Eastern Canada and then the first US Postmaster General, and was depicted on the first US Postage Stamp issued in 1847.  Plus, he looks like he loved his food!
John Coulson
Medicare & Life Advisor
John is a native of Washington.  A lover of both land and sea, he attended Washington State University and then traveled extensively for almost a year in Europe where he learned how to get by on a wing, a prayer and a thumb.  John worked 20 years in the Restaurant /Hospitality industry before getting involved in insurance and moving to Sequim.  He has been happily married for thirteen years and has a daughter.
John has been specializing in Medicare and Major Medical since 2006.  He can help you navigate the "Maze of Medicare" to find the coverage that fits your needs and your budget.  John looks forward to helping you in the future.
Go-to Karaoke Song: I used my favorite go to Karaoke song, "If you'll be my Dixie Chicken: by Little Feat", to woo my wife when we were dating. I only had to sing it once and my wife knew there was no other.
Best Meal You've Ever Had: During many years of eating/dining and gorging, I have had numerous eventful meals; but perhaps the finest meal I have ever eaten was in Omaha, Nebraska at the 801 Chop House, where Phil Castell and I were dining on fine steaks and wine.  The meal included a Bone-In Tenderloin chop, one of only 4 per animal, asparagus, and a very fine wine, topped off with a cigar and a scotch.  A meal to remember!
James Castell
Home/Auto Specialist
James was born in Seattle and spent most of his childhood in Kent, WA.  James attended the University of Washington and became active in his fraternity and the economics department.  While at the University of Washington, James began working for Bank of America as a teller.  Shortly after graduation James became Branch Manager of the Bank of America in the Fremont area of Seattle.
James and his wife Sarah moved to Sequim in 2012.  Together they enjoy being outdoors, cooking, cycling and traveling. They are proud parents of two young boys, Grayson (6) and Bennett (4).  James and Sarah love spending time with their families and friends and have already started recruiting many of them to move to Sequim too!  Since moving to Sequim, James spent time on the Board of Directors of the Dungeness Valley Health and Wellness Clinic, a local non-profit that provides healthcare to the undeserved in the area.  He has also worked with local neighborhood homeowner's associations (HOA) as a local insurance advisor.
Favorite sport to watch: Is ALL OF THEM a reasonable answer?  I grew up a sports junkie and love watching any high level of competition from NFL on Sundays to the World Cup every 4 years.
That said if I had to choose one, it would be football without a doubt.  GO DAWGS!
How would I spend $1 million:  This is where the dorky economics and former bank manager comes in.  I'd pay off my house, set some aside for the boys potential college expenses, then with some of what's left I'd buy a new truck and travel trailer so we can show the boys what the West coast has to offer camping throughout the year!  Here is to dreaming right?!?
Stephany Shackelford
Insurance Advisor
Stephany joined the Castell Insurance family in September of 2013 to assist with the Affordable Care Act.  It was a temporary position that has turned into a long-term part of the Castell Insurance family.  Before she was in the office being our ACA nerd, Stephany owned an Allstate agency here in Sequim.  When she is not at the office, Stephany enjoys reading, knitting, and photography.
What TV show do you never miss?:  Game of Thrones, I held out watching for quite a while, but now I wouldn't dream of missing an episode.  Plus, I am listening to the books on Audible.
If you were on an island what 3 things would you want?:  I would want my IPAD full of books, music + a solar charger to keep me entertained.  I would want my husband, Matt to be stranded with me because he is super handy.  Lastly, I would want an unlimited supply of Diet Coke and Sailor Jerry's rum so every evening I could sit back and relax while watching the sunset.
Christy Francis
Medicare Advisor
Christy moved with her family to Sequim in 1970.  She attended Sequim schools and feels fortunate to have grown up here.  After graduating high school she worked for a few years here locally and then moved to the Seattle area.  She worked for the Professional Golfer's Association for several years and was able to enjoy many of the fine area golf courses.  After meeting  her husband Bill, who is also a local Sequimite, they moved back to Sequim to raise their two sons, Joshua and Jesse.
Christy has a large extended family and enjoys hosting many family gatherings.  Her family spends the summer camping on the Olympic Peninsula either at Lake Sutherland or Kalaloch beach.  She joined Castell Insurance in 2010 and is a licensed agent who assists with all functions within the office, taking care of service with Insurance companies and processing policies issued.
Favorite Vacation:  I enjoy pretty much any place that has a beach.  Although the best vacation
I have been on would be our trip to Kauai, Hawaii.  We spent 10 days there and it is a such a beautiful island and I really like the slower pace there.
Favorite Family Tradition:  Coming from a large family we have a lot of family traditions from our "Easter Egg Scramble", "Turkey Shoot" at Thanksgiving or our New Year's Eve bonfire.  However my favorite family tradition would have to be our Oktoberfest / Family Reunion.  My relatives from Washington and Oregon get together and enjoy German food, recipes from my Grandmother and homemade beers.  (What's more fun than a bunch of Germans drinking beer and doing the Chicken Dance?)  Good times!
Andrea Wellman
Insurance Advisor
People who work with Andrea appreciate her warm and calm demeanor, and the fact that she always goes the extra mile taking care of how they like their coffee.  Fellow co-workers appreciate these qualities in Andrea, and they more than agree it makes up for her all-out obsession with crime based TV shows.
Andrea is a licensed Home & Auto insurance agent, as well as a licensed esthetician (skincare knowledge AND insurance…that's a keeper!)  She joined Castell Insurance in 2014 after moving back to Sequim from Portland, Oregon.  When she's through with work, Andrea likes spending time with her family; especially their dogs Gracie & Seven and the two cats, Walter & Pearl.  She also enjoys DIY projects that Pinterest convince her to do, hoping one day she will finish that popsicle stick tea organizer wreath.
What job did I have in High School: I worked at Solar City in Sequim, as well as my parent's restaurant Tarcisio's. In Portland, I dabbled in the organic Spray tan business.  You learn a lot about people during a spray tan.
Favorite Animal to see in the Zoo:  Giraffe's and the big cats; lions tigers and bears oh my!
Kelsey Sands
Director of First Impressions
Kelsey moved to Sequim May of 2018.  As a lover of the outdoors Kelsey has made a point to live in some of the most beautiful states in the country including Wyoming, Montana, Colorado and Washington.  Being born in Jackson Hole, Wyoming her passion for small towns, mountains and beautiful scenery runs through her veins.
After graduating from Eastern Washington University Kelsey spent time Personal Training in Texas before finding her way back to the mountains of Northern Colorado.    It was Colorado where she found a new interest in banking.  After 3 years of banking she climbed the ladder to Branch Manager at Bank of the West.  Although she was loving life in Colorado, there was something missing.  As her mother says "the grass doesn't grow much under her feet" she decided to move closer to her parents which happened to be in Sequim.
Since moving to Sequim Kelsey has thoroughly enjoyed getting to know the area with her 3 fur babies Jax, Rae and Poe.  When Kelsey is not being the Director of First Impressions at Castell Insurance she is off-roading, running a 5k or researching her next adventure.
Favorite Sport to Play:  Growing up playing basketball and volleyball throughout life I would have to say I still thoroughly enjoy playing in a competitive game of Volleyball.  Sand volleyball is definitely more enjoyable on my joints but I won't say no to any kind.
Unlimited Tacos or Sushi:  Hands down I could eat tacos for every meal of the day!!!  They are so versatile and delicious ?